Posted by Elena del Valle on August 17, 2017
How To Retire with Enough Money
Photo: Workman Publishing
Are decisions about retirement on your mind? How much should you save? Where should you keep your money? Should you rely on an investment specialist? In How To Retire With Enough Money and How To Know What Enough Is (Workman Publishing, $12.95) retirement expert Teresa Ghilarducci (see Listen to podcast with Teresa Ghilarducci, author, How To Retire With Enough Money about her book) outlines what she considers the essential facts to prepare readers financially for the final years of their life.

"I wrote How To Retire With Enough Money because I found too many people were racked by guilt and shame because they didn't have enough savings to retire," the economist said by email. "But it's not their fault entirely, the system is stacked against most people's retirement savings. I wanted to empower people to overcome the forces barring them from having enough money in retirement."

The 128-page easy to read hardcover book was published in 2015 and is divided into six chapters: Facing the Facts; Bringing Your Picture into Focus; Working; Saving, Spending and Debt; Investing and Allocation; and Voting and Civic Involvement. Described on the back cover as a having "just financial common sense that's guaranteed to work," the book offers a positive and succinct approach to retirement. The author favors downsizing before retirement and offers strategies to cut back on spending. She strongly advises against relying on a financial advisor and urges readers to relocate their assets to low-cost index funds.

When asked how she would measure the success of her book she replied: "I will know I succeeded if people reading this How To Retire With Enough Money lowered their investment fees, fired their "guy" (the conflicted advisor), saved at least ten percent of their income by reducing debt and increasing their savings, and kept a monthly budget. Keeping a monthly budget is the key, the trailhead, to the path to financial empowerment." When asked if the book was sponsored in any way she replied, "I received no money or benefit from any firm mentioned in the book. (I praise Vanguard from genuine regard and respect.)."
Teresa Ghilarducci, author, How To Retire with Enough Money


The book required three years of work. She wrote it for workers of all ages. The author emphasized that saving at younger ages is a lot less painful than waiting to catch up; and that a person reaches the same financial goal by saving a much smaller share of their income if they start in their 20s rather than their 40s.

Regarding retirement issues, the author said, "The greatest obstacle to retirement saving is that most employers don't offer a way for people to save at the workplace and when they do the law allows people to withdraw their money before retirement. Also federal government subsidies, in the form of tax breaks, favor the wealthy."

About the challenges she faced when she set out to write the book she said, "One small challenge was convincing my publisher that I didn't want to make people rich, I wanted people to have enough. (It wasn't that hard, the publisher was fantastic and taught me a lot.) The main challenge was to write the book so I didn't scold the reader like other financial books tend to do. The last thing anyone needs is yet another book that simply says, save more, and if you don't it's your fault."

"I am developing an interactive space on our Retirement Equity Lab (ReLab) website where I answer questions from anyone. And my follow-on book is coming out in January, coauthored by Tony James, about what the government can do to save retirement (Columbia University Press)," she said.

Ghilarducci is an expert on retirement, pensions, and personal savings, and the Bernard L. and Irene Schwartz Chair in Economic Policy Analysis at The New School for Social Research. She has a Ph.D. in economics from the University of California, Berkeley and taught previously at the University of Notre Dame.
---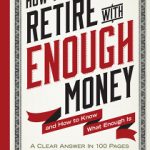 Click to buy How to Retire with Enough Money
---